S50 Bluetooth Conductivity Tester
High-performance bluetooth conductivity meter is suitable for Android smartphone or tablet, the tester contains conductivity, TDS, salinity, resistivity and conductivity ash measurement modes, accuracy: 0.5% F.S.
Features:
• High-performance bluetooth conductivity meter is equipped with a platinum-black coating
sensor.
• 1 to 3 points calibration with automatic recognition for conductivity standards.
• Selectable cell constant, temperature compensation type, temperature compensation
coefficient, pure water compensation coefficient, reference temperature and TDS factor.
• Automatic temperature compensation corrects conductivity measurements to the reference
temperature.
• Auto-read function senses and locks the measurement endpoint.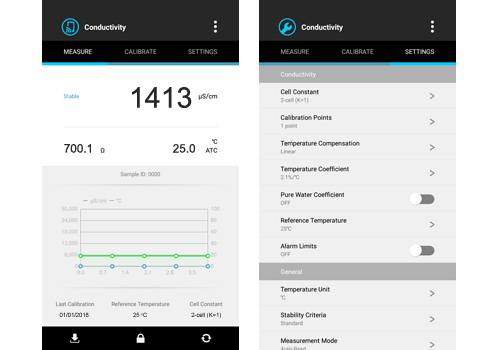 • Timed interval readings sends the measurement data to the memory or printer.
• Limit Alarm automatically alerts when the measurement exceeds the specified range.
• Calibration due alarm reminds the user to calibrate the tester regularly.
• Calibration log shows the date, time, calibration points and factors.
• Password protection prevents the unauthorized calibration and settings.
• Multiparameter measurement allows connecting the S10 pH and S80 dissolved oxygen
testers and shows measurement readings simultaneously.
• Reset function automatically resumes all settings back to the factory defaults.
Model




S50-M

S50-H

Conductivity






Range




1.0 μS/cm to 20 mS/cm

100 μS/cm to 200 mS/cm

Resolution




0.01, 0.1, 1, automatic

Accuracy




±0.5% F.S.

Calibration




1 to 3 points

Calibration Solutions




84 µS / 1413 µS / 12.88 mS / 111.8 mS

TDS






Range




0 to 20.00 g/L

0 to 200.0 g/L

Resolution




0.01, 0.1, 1, automatic

Accuracy




±1% F.S.

TDS Conversion Factor




0.01 to 1.00 (default 0.5)

Salinity






Range (Practical Salinity)




0.00 to 10.00 psu

0.00 to 42.00 psu

Range (Natural Seawater)




0.00 to 10.00 ppt

0.00 to 80.00 ppt

Range (%)




0.00 to 1.00%

0.00 to 8.00%

Resolution




0.01

Accuracy




±1% F.S.

Resistivity






Range




0.00 to 10.00 MΩ

0.00 to 1.00 MΩ

Resolution




0.01, 0.1, 1, automatic

Accuracy




±1% F.S.

Conductviity Ash






Range




0 to 100%

Resolution




0.01, 0.1, 1, automatic

Accuracy




±1% F.S.

Measurement Modes




ICUMSA GS1 / GS2

Other Specifications






Temperature Compensation




0 to 100°C / 32 to 212°F, automatic

Temperature Coefficient




Linear (0.0 to 10.0%/°C) / Non-linear / USP / EP

Pure Water Compensation




Yes

Reference Temperature




20 / 25°C

Cell Constant




K=1

K=10

Stability Criteria




Fast / Standard / Slow

Measurement Modes




Continuous / Auto-read measurement endpoint

Timed Interval Readings




10 / 30 / 60 / 300 seconds or off

Calibration Due Alarm




1 to 99 days or off

High/Low Limit Alarm




Selectable

Data Transfer




Memory / Printer

Password Protection




6 digits

Connectivity




Bluetooth 4.0 or newer

Maximum Wireless Range




10 m / 33 ft

Power Supply




2 × 1.2V lithium batteries or AAA batteries

Environmental Conditions




0 to 50°C / 32 to 122°F, relative humidity < 80%

Dimensions




185 × 40(Ø) mm

Weight




100 g
Ordering Code

Tester Includes

S50-M

Conductivity standard solutions 84 µS/cm, 1413 µS/cm, 12.88 mS/cm

Carrying case

S50-H

Conductivity standard solutions 1413 µS/cm, 12.88 mS/cm, 111.8 mS/cm

Carrying case
| | |
| --- | --- |
| Ordering Code | Dimensions and Weights |
| S50-M | 28 × 8 × 25 cm, 1.5 kg |
| S50-H | 28 × 8 × 25 cm, 1.5 kg |