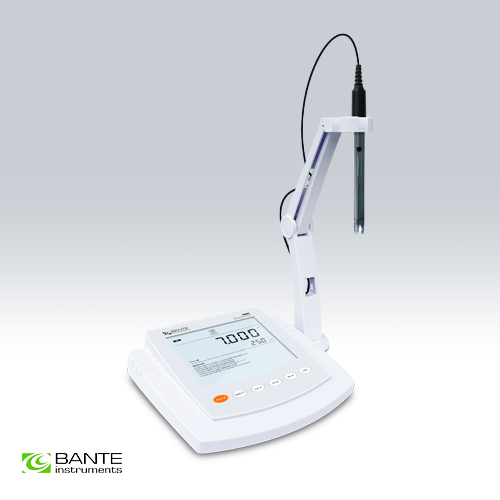 Bante900 Benchtop Multiparameter Water Quality Meter
High-precision multiparameter water quality meter contains measurement modes for pH, ORP, ion concentration, conductivity, TDS, salinity, resistivity and dissolved oxygen, the setup menu offers 17 optional settings for customization.
pH Mode:
• Multiparameter water quality meter is equipped with a large backlit LCD display.
• 1 to 5 points calibration with automatic recognition for USA, NIST and DIN buffers.
• Automatic electrode diagnosis shows the pH slope and zero offset.

ORP Mode:
• 1 point offset calibration allows adjusting the displayed value to a known standard.
• Relative and absolute millivolt modes ensure the reliable ORP measurements.





Ion Concentration Mode:
• 2 to 5 points calibration, including the selection of 8 concentration points.
• Automatic electrode diagnosis shows the calibration points and slopes.
• Direct ion concentration readout simplifies the measurement process.
• Selectable concentration units (ppm, mg/L, mol/L) and ionic valency.

Conductivity/TDS/Salinity/Resistivity Modes:
• 1 to 5 points calibration with automatic recognition for conductivity standards.
• Selectable cell constant (K=0.1/1/10), reference temperature (20/25°C), TDS factor, linear and
pure water compensations, seawater and practical salinity measurement modes.

Dissolved Oxygen Mode:
• 1 or 2 points calibration using the air-saturated water or zero oxygen solution.
• Salinity and barometric pressure compensations eliminate the measurement errors.





Other Features:
• Automatic temperature compensation ensures accurate readings over the entire range.
• Auto-read function senses and locks the measurement endpoint.
• Calibration due alarm reminds the user to calibrate the meter regularly.
• Setup menu allows setting the number of calibration points, stability criteria, temperature unit,
date and time, auto-power off, etc.
• Reset function automatically resumes all settings back to the factory defaults.
• Expanded memory stores or recalls up to 500 data sets.
• USB communication interface for data transfer and timed interval readings.
| | | |
| --- | --- | --- |
| Model | | Bante900 |
| pH | | |
| Range | | -2.000 to 20.000 pH |
| Resolution | | 0.001 / 0.01 / 0.1 pH, selectable |
| Accuracy | | ±0.002 pH |
| Calibration | | 1 to 5 points |
| pH Buffer Options | | USA / NIST / DIN / 2 custom buffers |
| ORP | | |
| Range | | -1999.9 to 1999.9 mV |
| Resolution | | 0.1 / 1 mV, selectable |
| Accuracy | | ±0.2 mV |
| Calibration | | 1 point |
| Measurement Modes | | Relative / Absolute mV |
| Ion Concentration | | |
| Range | | 0.00 to 19999 (depending on the range of ISE) |
| Resolution | | 0.001, 0.01, 0.1, 1, automatic |
| Accuracy | | ±0.5% F.S. (monovalent), ±1% F.S. (divalent) |
| Calibration | | 2 to 5 points |
| Calibration Solutions | | 0.001 / 0.01 / 0.1 / 1 / 10 / 100 / 1000 / 10000 |
| Measurement Units | | ppm, mg/L, mol/L, mmol/L |
| Conductivity | | |
| Range | | 0 to 20.00, 200.0, 2000 µS/cm, 20.00, 200.0 mS/cm |
| Resolution | | 0.001, 0.01, 0.1, 1, automatic |
| Accuracy | | ±0.5% F.S. |
| Calibration | | 1 to 5 points |
| Calibration Solutions | | 10 µS / 84 µS / 1413 µS / 12.88 mS / 111.8 mS |
| Temperature Coefficient | | 0.0 to 10.0%/°C |
| Pure Water Compensation | | Yes |
| Reference Temperature | | 20 / 25°C |
| Cell Constant | | K=0.1 / 1 / 10 / Custom |
| TDS | | |
| Range | | 0 to 10.00, 100.0, 1000 ppm, 10.00, 200.0 ppt |
| Resolution | | 0.01, 0.1, 1, automatic |
| Accuracy | | ±1% F.S. |
| TDS Conversion Factor | | 0.1 to 1.0 (default 0.5) |
| Salinity | | |
| Range | | 0.00 to 80.00 ppt / 0.00 to 42.00 psu |
| Resolution | | 0.01 |
| Accuracy | | ±1% F.S. |
| Resistivity | | |
| Range | | 0.00 to 20.00 MΩ |
| Resolution | | 0.01 |
| Accuracy | | ±1% F.S. |
| Dissolved Oxygen | | |
| Range | | 0.00 to 20.00 mg/L / 0.0 to 200.0 % saturation |
| Resolution | | 0.01 / 0.1, selectable |
| Accuracy | | ±0.2 mg/L / ±2.0 % |
| Calibration | | 1 or 2 points |
| Pressure Correction | | 60.0 to 112.5 kPa / 450 to 850 mmHg, manual |
| Salinity Correction | | 0.0 to 50.0 g/L, manual |
| Temperature | | |
| Range | | 0 to 105°C / 32 to 221°F |
| Resolution | | 0.1°C/°F |
| Accuracy | | ±0.5°C / ±0.9°F |
| Calibration | | 1 point |
| Calibration Range | | Reading ±10°C/°F |
| Other Specifications | | |
| Temperature Compensation | | 0 to 100°C / 32 to 212°F, manual or automatic |
| Hold Function | | Manual / Auto-read measurement endpoint |
| Stability Criteria | | Low / High |
| Calibration Due Alarm | | 1 to 31 days or off |
| Memory | | Stores up to 500 data sets |
| Output | | USB communication interface |
| Connector | | BNC, 6-pin mini-DIN, 3.5 mm jack socket |
| Display | | Custom LCD (125 × 100 mm) |
| Power Supply | | 5V DC power adapter |
| Environmental Conditions | | 0 to 50°C / 32 to 122°F, relative humidity < 80% |
| Dimensions | | 210 × 188 × 60 mm |
| Weight | | 1.5 kg |
Ordering Code

Meter Includes

Bante900-CN

E201-BNC pH electrode

CON-1 conductivity electrode

DO100 dissolved oxygen electrode

TP-10K temperature probe

pH 4.01, 7.00, 10.01 buffer reagents

Conductivity standard solutions 84 µS/cm, 1413 µS/cm, 12.88 mS/cm

DO electrolyte solution

DO membrane cap

USB cable

5V DC power adapter

Bante900-UK

P11 glass pH electrode

K10 conductivity electrode

DO100 dissolved oxygen electrode

TP-10K temperature probe

pH 4.01, 7.00, 10.01 buffer reagents

Conductivity standard solutions 84 µS/cm, 1413 µS/cm, 12.88 mS/cm

DO electrolyte solution

DO membrane cap

USB cable

5V DC power adapter
| | |
| --- | --- |
| Ordering Code | Dimensions and Weights |
| Bante900-CN | 30 × 25 × 20 cm, 1.7 kg |
| Bante900-UK | 30 × 25 × 20 cm, 1.7 kg |